West Liberty High School's Macy Daufeldt is the 2022 Gazette Female Athlete of the Year. (Geoff Stellfox/The Gazette)
WEST LIBERTY — Macy Daufeldt is a deflector.
Tell her she's great, and she'll flash you a quick smile of thanks, and go on to tell you about her teammates.
"We'd be coming home from a volleyball match, and I'd talk about this hit that she had," said Macy's father, Matt Daufeldt. "She'd usually change the subject to how good the pass was from the libero or how good the set was from the setter."
Tell her she's overrated, and she'll flash you a wry smile, perhaps a wave to acknowledge that she heard you.
Then she'll return to the court and stick it in your ear.
Ask the Davenport Assumption student body if Daufeldt was overrated after her riveting 37-kill masterpiece in the Class 3A state semifinals last November.
No? Didn't think so.
Daufeldt helped elevate West Liberty High School girls' athletics to an unprecedented level.
In the process, she was the 2021 state co-player of the year in volleyball. A two-time first-team all-stater in basketball. A regular state placewinner in track and field (including a long jump championship as a freshman).
And today, The Gazette honors her as its 2022 Female Athlete of the Year.
This was one of the deepest crops of area senior female athletes in recent memory, and Daufeldt was a runaway winner as the award turns 40 years old.
"Her athletic ability is obvious. But her character — the way she is around little kids, always has a smile on her face — that's what I'm always going to remember," said Adam Loria, the school's athletics director. "As a human being, she has no weaknesses.
"Macy likes to deflect the credit on to others. If you talk about the perfect teammate, it's her. She's an easy kid to cheer for."
The youngest sibling showed promise early
Our first introduction to Macy Daufeldt came in 2015, a few minutes after Nevada defeated West Liberty for the 3A state volleyball championship.
Interviews were wrapping up in the media room, and Hailey Daufeldt — Macy's older sister was on that West Liberty team — made her final comment of the day:
"Wait until you see my younger sister."
Nearly seven years later, Hailey said, "Yeah, I still remember that. It came true, right?"
Right.
"Macy is one of those players you dream about getting to coach," West Liberty volleyball coach Ruben Galvan said.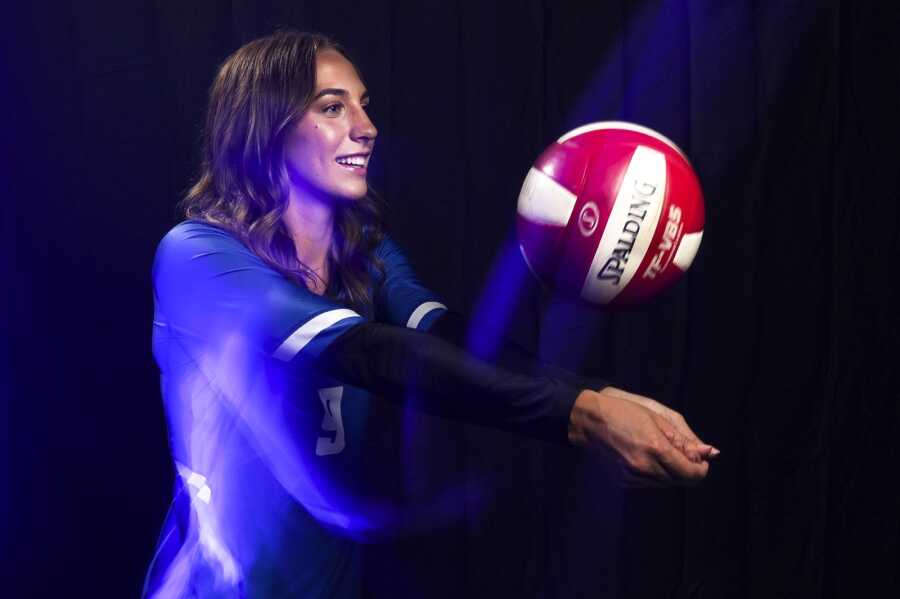 Macy is the youngest of three Daufeldt kids (the middle sibling, Spencer, was a walk-on for the University of Iowa football team). And as the youngest, she had plenty of opportunities to blossom as an athlete.
If Hailey needed a volleyball pepper partner, Macy stepped in. If Spencer wanted to throw a football around, Macy made a suitable receiver.
"I loved doing that," Macy said.
Matt Daufeldt was an athlete at West Liberty. Michelle (Forbes) Daufeldt was an athlete at Lone Tree.
Not long after their wedding, they bought land a couple of miles southwest of West Liberty, an operation that has grown to 1,000 acres of crops, 5,000 hogs and a small herd of cattle.
Then came the children. Hailey graduated from West Liberty in 2016, Spencer in 2019.
"That's a hard-working, axe-to-the-grindstone family," said Matt Hoeppner, who coached Macy three years in basketball.
As were Hailey and Spencer, Macy was an active member of West Liberty's FFA chapter.
"When I was younger, I wished I lived in town and could walk to my friends' house," she said during a recent interview in her family's dining room. "Now, gosh, if I lived in town, I'd hate it.
"I love this place."
'The best outside hitter in the state'
As it became clear that she had volleyball promise, Daufeldt joined the Iowa Rockets club program — "(Rockets coach) David Rodgers really helped me build my mental game," she said — and when she reached high school, she was ready to contribute at the varsity level immediately.
"She brought a totally different dynamic to the team," Galvan said. "We expected great things from her. There was probably some pressure to perform at a high level right away."
"Macy saw Hailey have that success. I'm sure she wanted to match that or do better."
And at the state tournament last fall, she was breathtaking.
In a three-set quarterfinal sweep of Mount Vernon, she set a 3A record with 33 kills. Then came the Assumption match, a five-set marathon, won by the Comets 16-14 in the fifth.
Daufeldt had heard chants from opposing fans directed at her before. This was unmistakable, during a timeout, from the Assumption students.
"O-ver-ra-ted."
Bad move.
"Inside, I was laughing," Galvan said. "That's what we needed to get her going. She's not one to swear, but I think she wanted to. You could see it in her eyes. She was very motivated, and it all worked to our advantage.
"We saw a different Macy that day. She's never out there to prove anything to anybody, to shove it in somebody's face."
As the Assumption students chanted, Galvan made adjustments in the huddle.
Daufeldt's eyes were on Galvan. One hand held the water bottle from which she drank. The other was waving to the opposing students, asking for more.
"She was trying to stir them up a little bit," Loria said. "She was egging them on, and she was feeding off of them."
West Delaware ended the Comets' run in the state finals. Afterward, Hawks Coach Brett Mather called Daufeldt "the best outside hitter in the state," and a couple of weeks later, the Iowa Girls Coaches Association concurred: Daufeldt shared state player-of-the-year honors with Dike-New Hartford's Payton Petersen.
Daufeldt's recollections of that week at the Alliant Energy PowerHouse?
"Honestly, I can't remember a single thing from the Mount Vernon match," she said. "I remember the winning point against Assumption, a couple of back-row kills. But that's it."
"I need to re-watch those. I want to do that before I leave for college."
Daufeldt committed to Drake University early in her high school career, and never wavered from that, though she's probably Power 5-caliber.
"We had never thought much about Drake, never gave them a thought," Matt said. "But we went up there when Macy was a freshman, and were really impressed."
The Bulldogs took their once-every-four-years summer trip in June, to Brazil, winning three of four matches against Brazilian club teams.
"The defense is really different than what we did in high school," Daufeldt said. "I am playing left back instead of middle back. It's a big switch, but it's coming along. I'm going to have to work hard, work for a spot. But I love the team."
It wasn't just volleyball at West Liberty
Daufeldt was volleyball-first at West Liberty, but certainly not volleyball-only. Though the Comets never got to state in basketball during her four years, they did post their best three-year run in decades — 53-16 and three River Valley Conference South Division second-place finishes.
She averaged 18.8 points and 8.7 rebounds as a senior.
"I know she does travel volleyball, but she would tell me, 'I'm in basketball right now,' even though volleyball is her future," Hoeppner said. "She respected her basketball teammates enough to give all she had when she was there."
Two of the family's brightest sports moments came moments apart in May 2019, at the state track meet. Spencer earned a personal best on his final throw in the shot put, and Macy won the long jump title on her final attempt.
"I talk to myself a lot anyway," Macy said. "I was just saying, 'You can do this. You've got this.'"
Daufeldt added to her medal collection in May, placing second in the 2A long jump, third in the shuttle hurdle relay and fifth in the 100-meter hurdles.
For four years, Macy Daufeldt helped bring West Liberty girls' athletics to new heights. And through it all, she did it with perspective.
"She never carried her losses home," said her father.
Added her sister: "If something goes wrong, Macy is good about thinking about it, fixing it and forgetting it."
Deflectors can do that.
Macy Marie Daufeldt
School: West Liberty
Birthdate: April 5, 2004
Family: Parents, Matt and Michelle Daufeldt; sister, Hailey; brother, Spencer.
High school accomplishments: The 2021 state co-player of the year in volleyball, she led the Comets to a Class 3A state runner-up finish. Concluded her career with 1,811 kills (639 as a senior) and 1,082 digs. The 2A state long jump champion as a freshman, she was second as a senior, plus third in the shuttle hurdle relay and fifth in the 100-meter hurdles. A two-time first-team all-state pick in basketball, she finished her career with 1,192 points, 633 rebounds and 210 steals. Averaged 18.8 points and 8.7 rebounds as a senior. Played softball through her sophomore year, when she was an all-River Valley Conference divisional pick for a state-qualifiying team.
College: Will play volleyball at Drake University. Plans to major in marketing and minor in graphic design.
Comments: [email protected]